| | |
| --- | --- |
| In 1978, Mrs. Makiko Radom Iskandar, an energetic Japanese lady who was married to an Indonesian gentlemen, established Rama Tours in Denpasar, Bali. The name of the company "Rama" is taken from the very popular Hindu epic, the Ramayana. | |
| | |
| --- | --- |
| | Rama Tours started with only a few dedicated individuals in a small rented office in The Grand Bali Beach Hotel (formerly Bali Beach Hotel). Over the years with heartfelt leadership, Mrs. Makiko, the Managing Director, has built the company on strong principles making it one of the largest and most rapidly expanding Travel & Tour companies in Indonesia. Today Rama Tours has grown to over 300 employees located in spacious office complex located on Jalan By Pass Ngurah Rai, Tuban, Bali. |
| | |
| --- | --- |
| It's fully computerized office is able to serve clients with an up-to-date and accurate booking (Reservation) for all necessary travel requirements. | |
Also serving the needs of Rama Tours clients is its sister company Mari Transport with a fleet of more than 200 coaches, mini vans and sedans which handles over 100,00 travellers throughtout Indonesia annually. Mari Transport is a pioneer transportation company in Indonesia using LPG fuelled vehicles to support the world "BLUE SKY" Program.
| | |
| --- | --- |
| | In line with its expanding development, Rama Tours opened an overseas office in Tokyo (Japan) in 1986 and a second one in Osaka (Japan) in 1992 and Sales Reprensentative in Minneapolis (USA) early 1997. In addition to these offices, it has branches in Jakarta and Yogyakarta and is reprensented by numerous tour operators in all major cities throughout Indonesia. In Bali, Rama Tours has service counters in major five star hotels for the convenience of its clients. |

Mrs. Makiko and her professional staff are committed to client satisfaction and make every effort possible to reach their goals to improve the quality of service provided by Rama Tours. To continue to esure superior service Rama Tours
provides :

- In house educational training programs for administrative staff, tour coordinators and guides.
- Modern office facilities with latest telecommunications system.
- Top quality hotels and restaurants.
- A well organized and quality transportation service.
- International insurance coverage to ensure for the safety and well being of its clients.

Rama Tours is confident that with its strong leadership and dedicated proffesional staffit can provide its clients with the best travel programs available throughout Indonesia.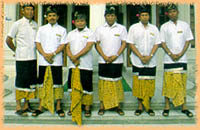 English Speaking Guides
(Balinese Costume)
[Company Profile] [Our Packages] [Conditions] [About Indonesia] [Indonesian Map] [Sumatra]
[Java] [Bali] [Nusa Tenggara] [Kalimantan] [Sulawesi] [Mollucas] [Irian Jaya] [Contact Us] [Home]
© 2002-2003, Rama Tours & Travel - Bali, All Rights Reserved
Check Ramatours E-mail with WebMail